The shameless fraud ntro, R&AW, cbi, tata, google officials who have ruthlessly defamed, cheated, exploited , harassed and tortured the brilliant experienced obc engineer, domain investor and Paypal account holder seem to be stooping to the lowest level when they falsely claim that the lazy greedy GOAN GSB FRAUD extortionist housewife riddhi has the impressive resume of the obc engineer whose life they destroyed.
These fraud officials are falsely claiming that the lazy greedy GOAN GSB FRAUD HOUSEWIFE riddhi owns the llll.com,lll.in and other domain names of the obc domain investor to give the fraud riddhi great powers, allegedly a R&AW job when the shameless greedy goan gsb fraud riddhi does not spend a single penny on the domain names, They are also falsely claiming that the goan gsb fraud riddhi is investing in new domain names, when actually she does not spend any money on domain names at all, only on fashion, beauty, grooming products.
Snapnames allegedly appears to the latest company duped by the shameless powerful fraud gang promoting the lazy greedy inexperienced goan gsb fraud housewife riddhi as a domain investor, paypal account holder and experienced engineer from the snapnames ad which features a lookalike of the goan gsb fraud riddhi.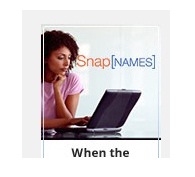 Just because these officials are diverting the phone calls, smses and other correspondence of the obc engineer, domain investor and Paypal account holder to the lazy greedy goan gsb fraud housewife riddhi without a court order or legally valid reason, these fraud ntro, r&AW, cbi officials have no right to falsely claim that the mediocre goan gsb housewife riddhi has the impressive resume, investment of the obc engineer, these shameless fraud cowardly officials are defaming, exploiting
Why does the lazy greedy goan gsb fraud riddhi not start her own business, instead of falsely claiming to be associated with the brilliant obc engineer, domain investor she is impersonating, cheating and exploiting